I recently worked with a group of people who were moving to GoogleApps, and as we talked about how GoogleApps services work differently than MS Office applications, it struck me (yet again) that almost everything I do anymore revolves around change. I work with technology, of course, but with the Common Core implementation, our new state assessments (PARCC and online tests for science & social studies), our work on equity and the achievement gap, and our new evaluation process by the CDE, almost every facet of our PD involves change.
I'm starting to wonder: would we be better off using change as our structural constant in our approaches to PD, regardless of the topic? Would being consistent and transparent about change not only help tie together our various initiatives but also help people adapt to change in a more effective way? Here are a couple of frameworks about change that may be worth exploring as foundations for our PD efforts.
1. Managing complex change. I wish I could give proper credit to whomever created the graphic here (I originally found it on
Educational Origami
but can't find it now). I like how this breaks down what happens when a key component of change isn't addressed.
I decided to try using this as a structural foundation last week, so I used this graphic and structured parts of PD session for each component: vision, skills, incentives, resources, and action plan. After the session, I had people specifically mention how helpful using that approach was for them. This could also be helpful for follow-up sessions or conversations.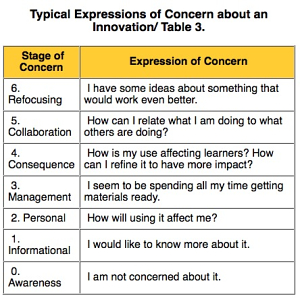 From EdTechDebate.org
2. CBAM. Another change model that I've seen used well is CBAM or Concerns-based Adoption Model.
Edutechdebate.org
has a great explanation of this, but the premise is that people typically experience three stages during the change process (0-2 is "me," 3-4 is "it," and 5-6 is "us").
The nice thing about using CBAM as a foundational structure is that we could be transparent about what different components of PD are designed to address. This type of structure could also help people decide if a specific session is going to meet his/her needs. One option would be to categorize sessions using this numbered scale to match content/topic to concern level.
3. Adaptive Solution vs. Technical Solution (adapted from Ronald Heifetz). I first came across this framework during our district's Beyond Diversity training, and I really liked the idea of differentiating between a technical solution (e.g. something that addresses items or process or procedures) and an adaptive solution (e.g. something that involves changing behavior, attitudes, and emotions). This isn't as clean in its presentation as the aforementioned models, but change isn't clean, either.
This graphic does a good job identifying discomfort or disequilibrium over time. A technical solution (e.g. providing time in a schedule for PLC work) is typically something that is not ongoing. Once the solution is in place, that's it. However, too many times we stop there. The adaptive solution (e.g. using that time effectively for growth, reflection, and learning) is ongoing and will likely have highs and lows as people adapt to the change. Finally, this graphic also addresses the "this too shall pass" mentality many of us experience in education (work avoidance). As far as a PD structure, I could imagine using color coding to help people see which things are more closely aligned with a technical solution and which items are more targeted towards the adaptive solution.
All three of these have been useful for me to think about, and they all have their place in PD planning. However, I think I want to experiment with approaching our different initiatives with a consistent or constant structure related to change. It might be organizing PD topics around the idea of managing complex change, it might be categorizing PD topics based on CBAM, or it might be color-coding technical aspects and adaptive aspects. Regardless, I think that if we can openly rely upon a repeatedly used framework as an underlying structure for PD, it might help people feel more comfortable with what we will inevitably continue to tackle: the constant of change.